Product Photography is one of those things that so many Shopify store owners take for granted. The truth of that matter is that marketing is so much more powerful when multiple senses are engaged. Read The Ultimate Sales Machine by Chet Holmes if you don't want to take my word for it. If I tell you a product is awesome, you might hear & believe me. But if I tell you a product is awesome at the same time I show you an image that makes your mouth water – that my friend is a much more effective way to get the point across.
Take it a step further: if I tell you it's awesome, and show you it's awesome, and the description provides factual evidence that it's awesome – it's a done deal. You'll be scrambling for that buy button. (Hopefully that thing is easy to find… if not, we need to have a discussion about optimizing your product pages for better conversions!)
This same concept applies across many different channels, and it is one of the reasons video can be so powerful for your Social Media Marketing. It's also a great way to boost your SEO since the combination of visuals and speech can dramatically increase the amount of time visitors spend on your website.
We were recently commissioned by Braga Organic Farms to complete a homepage redesign for their Shopify Website. Now if you are unfamiliar with Shopify, take a look at their site. Or look a some of the other posts we have created for tips on Maximizing Shopify, or other topics like implementing Structured Data.
Dennis and Mike Braga sent us a 2lb bag of their trail mix. Not only was it delicious, but it allowed us to fire up the lightbox and take the following pictures, then work them into the new layout (as seen below).
The traditional "tiny bamboo bowl oops I spilled a bit" product photo.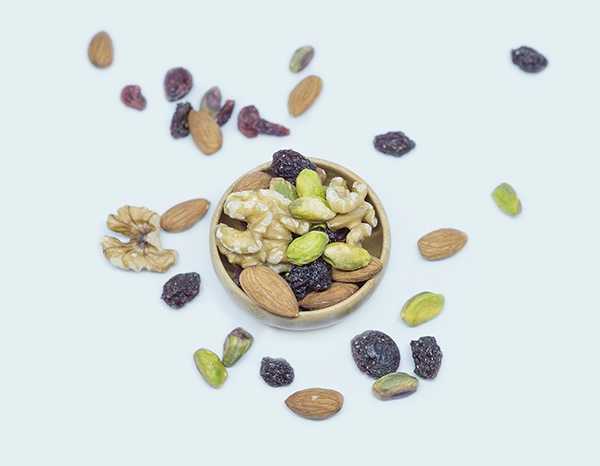 The overhead product photo provides a great perspective and the greens pop against the slightly blue background. Since the Braga claim to fame is the quality of their pistachios, this is key.
A little "pile 'o product" photography! Again, it's important that the greens are plentiful and pop because the pistachios are the pièce de résistance at Braga Organic Farms.
Product Photography in Use
After all the work that goes into getting these photos, it just wouldn't be a party unless we put them to work on their homepage redesign. The final product can be seen here:
And just for reference, this was the page before the work was completed:
We love helping our clients look great, and product photography is a huge part of that. Let us know if you're ready to take your store to the next level!